Join Us for the 2018 Great Lakes Pet Expo on Saturday, February 3, 2018.  Vendor Registration is Now Open!

If you want to reach thousands of pet lovers in one day this show is for you.
Over 14,000 pet lovers joined in 2017! The 2018 GLPE is over 143,000 square feet of pet loving fun offering great exhibit space for all vendors. This one day show starts off with a VIP Shopping Hour, 9AM-10AM, with general expo hours from 10AM-5PM.  Advance tickets will be available to the public beginning in December of 2017.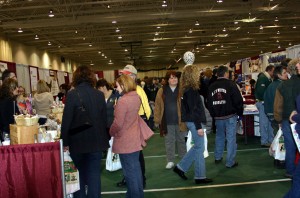 The Expo Planning Team is committed to ensuring you have the best experience possible while exhibiting.  This show is managed by a team of volunteers committed to excellence. The expo director has been managing events for 20 years and brings this experience to this show which is the major fundraiser for the Alliance of Wisconsin Animal Rehoming Efforts (AWARE). 50% of every booth purchased by a non-profit organization is paid by AWARE. Additionally, booth fees for those selling products and services are the lowest in the area for a show of this magnitude. From the time you arrive for the show until the time  you leave you will know you are in the hands of professionals. Please see visit our testimonials link to hear what other exhibitors are saying about their experience.
We look forward to working with you as we celebrate our 14th Great Lakes Pet Expo on February 3, 2018.
To become a vendor or exhibitor at the 2018 Great Lakes Pet Expo, review the Important Form Instructions and complete the downloadable 2018 GLPE Booth Application. The Great Lakes Pet Expo is a wonderful opportunity to reach thousands at one event!  Register TODAY by clicking below.