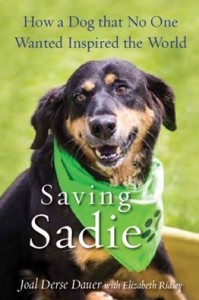 Looking for a way to warm your heart on a cold winter's day? If so, then look no further than the Great Lakes Pet Expo, where author Joal Derse Dauer and her incredible rescue dog, Sadie, will share their story of Sadie's powerful journey from being shot in the head and back and left for dead in the hills of Kentucky to being rescued and rehabbed by Joal, to her status today as a celebrity spokesdog, media darling, and advocate for acceptance of people and animals with special needs. Sadie is the subject of the book Saving Sadie: How a Dog That No One Wanted Inspired the World, a memoir written by Joal with coauthor Elizabeth Ridley and published last September by Kensington in New York. Modern Dog magazine called the book, "A triumphant tale of second chances that shows how patience, hope, compassion, and love can truly transform lives."
Back in 2012, Joal Derse Dauer thought she was just donating blankets at a local no-kill shelter when Sadie, a disabled and despondent dog, caught her eye. With three "fur babies" already at home, Joal wasn't looking to adopt another dog, but there was something special about Sadie, a shepherd mix who had been shot in the head and in the back and left for dead after giving birth. One gaze into those sorrowful eyes and Joal vowed to do everything possible to get the poor girl walking again.
The first three vets offered little hope, and two even recommended euthanasia. But with patience, hope, and plenty of love, Joal noticed a change in her canine companion. And somewhere along the difficult journey, she discovered sweet Sadie transforming her life in ways she never could have imagined. Today, Joal and Sadie are busy spreading their message of compassion, acceptance, and kindness around the world. Joyous and inspiring, Saving Sadie is a triumphant story about the power of unconditional love and second chances—for humans and animals alike.
In addition to their thirty-minute presentation about how Sadie was saved and how she is now helping others, Joal and Sadie will man a booth at the expo, where copies of Saving Sadie: How a Dog That No One Wanted Inspired the World will be on sale for $17, and can be personally signed and "pawtographed" by Sadie herself. Sadie is also happy to pose for photos with her fans.  Visit www.savingsadie.com
Saving Sadie: The "dog book" with a happy ending!