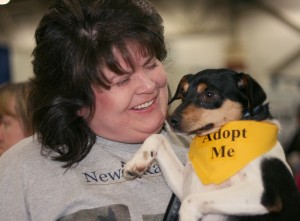 Please submit completed form for approval by sending it to glpedirector@gmail.com before 8pm February 2nd. Please title your email: name of your rescue, foster animal's name, parade form.
Parade of Adoptables Procedures
---
We reserve the right to remove any animal from the parade due to undesirable behavior.
Info MUST be typed –hand written will not be accepted.
Two animals up for adoption only per organization – no exceptions. Personal animals are not allowed to participate in the parade.
All animals in the parade must be people and pet friendly.
It will be your responsibility to bring your approved forms with you to the expo in order to participate in the parade. No approved forms, no walking in the parade – no exceptions.  Blank forms will be available at the Bark Park prior to the parade.
The parade will be held in the Bark Park  and is only an hour long. If you have two animals both will walk together, not separate in order to save time.
Forms may be approved the morning before the parade begins. Please bring your form to the Bark Park and ask for Pam to get your form approved.
---